Step 1
diamond crystals
Directions:
Pour 1 scoop in bath 1/3 full of water. Stir until beads form. To dissolve beads add 2 scoops of Ocean Salts and warm water, stir. Add more water if necessary to completely dissolve.
Diamond Crystals
A pre-soak step designed to turn water into soft beads that gently massage feet and legs while moisturizing skin. Retains heat 4 times longer than ordinary water baths. Purifying elements of the Arnica flower benefit skin and muscles.
Key Ingredients:
Konjac Mannan, Arnica Flower
Why Konjac Mannan?
Derived from the native Asian plant's root. The gel of this plant ellulose enables detoxification as it naturally swells in water, speeding up the excretion of harmful toxins from the body.
Step 2
ocean salts
Directions:
Pour the salts into warm water and stir until dissolved to release nourishing vitamins for softer rejuvenated skin. 1 scoop for footbath 2 scoops for whirlpool spas.
Ocean Salts
Naturally relieve stress and relax in a warm silky bath of Ocean Salts made from all natural ingredients to cleanse skin and prepare hands and feet for spa treatment.
Key Ingredients:
Mineral Rock Crystal, Dead Sea Crystal, Menthol Crystal, Epsom Crystal
Why four types of Salts?
These organic salts are full of minerals that are beneficial to health of the mind, body, and soul. The wondrous Dead Sea is known for it's breathtaking purity and clarity. These four types of salts are combined to help soothe the skin, reduce roughness and help increase tranquility of your spa experience.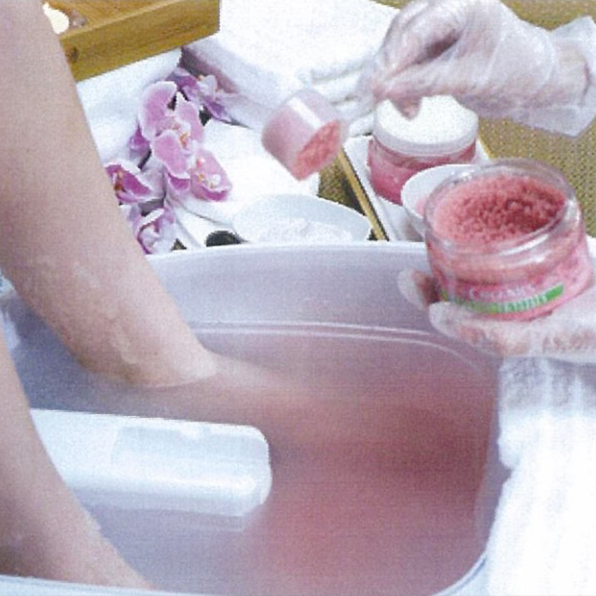 Step 3
sugar scrub
Directions:
After soaking, apply generous amount to hands, feet, and legs. Gently massage into skin. Rinse thoroughly and pat dry.
Sugar Scrub
Organic sugars and oils boost vibrancy of skin helping tone, renew texture, and diminish lines and wrinkles leaving skin exfoliated and feeling smooth.
Key Ingredients:
Raw Sugar, Cane Sugar, Brazilian Sugar, Rock Sugar
Why four types of Sugar?
Sugar is not only sweet to taste but it is an excellent component in vibrant skin. Sugar is a natural exfoliate and leaves skin feeling silky soft. Raw sugar is perfect because it does not clog pores and contains natural elements that help condition and protect skin.
Step 4
purifying mask
Directions:
Apply thick layer of mask over clean feet and hands. Wrap with a warm damp cloth and leave on for 10-15 minutes then rinse clean. For best results repeat twice a week.
Purifying Mask
Immerse hands and feet in an organic mask for your skin to detoxify impurities and rejuvenate skin back to its natural luster.
Key Ingredients:
Bentonite Clay
Why Bentonite Clay?
Bentonite clay is unique due to its ability to absorb toxins and impurities from your skin. Known as "healing" clay it extracts the harmful toxins and then delivers minerals, replenishing and soothing skin.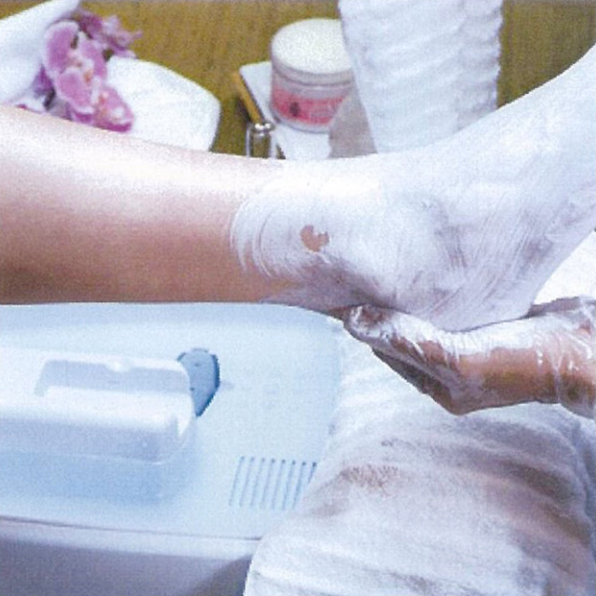 Step 5
massage lotion
Directions:
Apply as desired to hands and feet. Continuously massage into skin to release oils for soft silky skin. Repeat as needed.
Massage Lotion
Continuous organic lotion hydrates and moisturizes with pure oils and natural ingredients leaving skin silky and smooth throughout the day.
Key Ingredients:
Natural Glycerin
Why Natural Glycerin?
Derived from the soap making process, Glycerin is a natural humectant meaning it is capable of absorbing water from the air thus giving your skin a silky soft texture. Among the moisturizing benefits, Glycerin, is thought to help soothe skin irritants.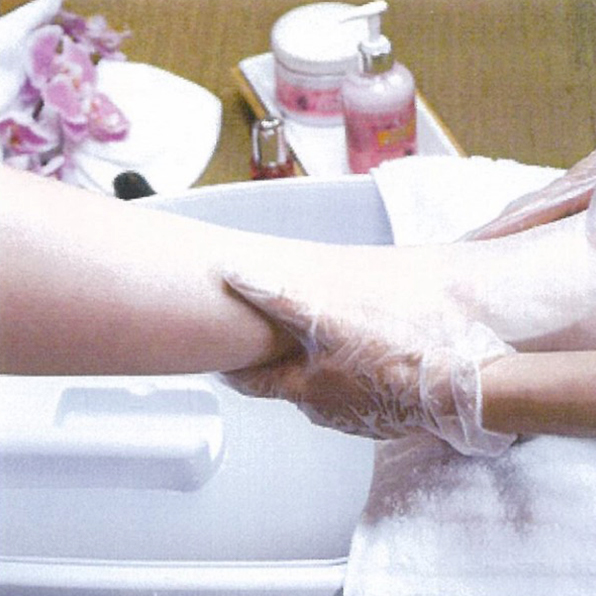 Step 6
cuticle oil
Directions:
A little goes a long way. Using blotter or cotton swab dab a small amount onto cuticles for vibrant results.
Cuticle Oil
Rich and smooth. Made with only the purest oils. Rejuvenate cuticles with pure vitamins and minerals for bright and refreshed cuticles.
Key Ingredients:
Moroccan Argan Oil, Jojoba Oil, Avocado Oil
Why Avocado Oil?
The oils extracted from this "super food" are extremely beneficial to the skin. Avocado oil is able to work deeply into skin throughout the day because of its natural ability to prevent from drying out.
The Best of Professionals
team
I came first time with new owner. Person did the mix gel nail for my hand very good. Person did the eye brow wax very good. Happy with nail service. I'll be back.
The girl that did my manicure was fantastic. She could see I didn't like my toe nail colour and how it turned out. I didn't say anything and she got someone else to put more coast on it. Looked way better. Definitely will come back.
First visit. Very please with the quick yet very good service. Nice and polite employees. Will definitely refer my family and friends. And I will return.
Stay in the loop about all things nails